Jordan Roy-Byrne – Despite This Precious Metals Pullback The Medium-Term Setup Is Still Quite Bullish
Jordan Roy-Byrne, Founder and Editor of The Daily Gold, joins us to share his technical outlook on gold and the gold miners, and despite the recent pullback in precious metals,  and risk of more short-term weakness, he views the medium-term setup as still quite bullish.  We start with discussing the recent failed breakout in Gold last week into the strong corrective move down this week. Jordan was disappointed not to see the $1900 reached, and for the move to have retraced back down to the $1780s, but sees $1750 as strong weekly support, and $1700 as strong monthly support.
We then pivoted over to how Fed hiking cycles often can be headwinds to the general stock indexes, but are generally tailwinds and quite bullish for gold and the gold mining stocks.   With the projected plan for the Fed to start hiking in the middle of next year, then this has Jordan bullish for the PM sector once that starts in 2022. 
Lastly Jordan  outlined that the cup and handle chart pattern, that has been filling out over the last decade, is now 17 months into the downward pullback that creates the handle, and that after a few more months of completion, it could be a very big impetus to send Gold and the gold miners much higher for several years.  He reiterated that this is why he feels that the real bull market in precious metals hasn't even really started yet. 
.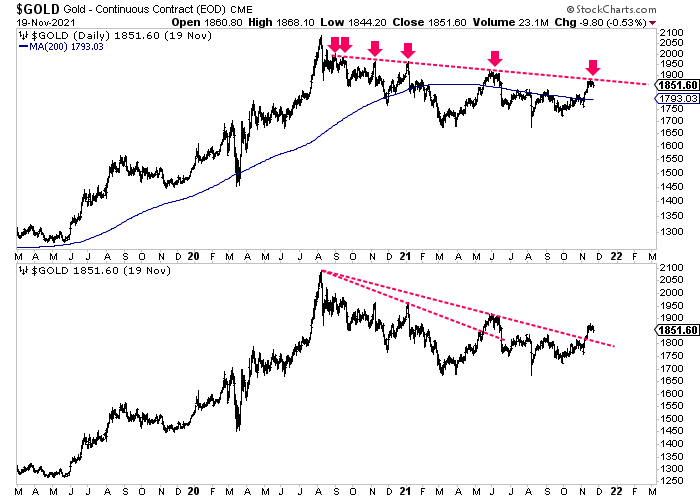 Click here to visit Jordan's site and keep up to date on his technical analysis on the metals.