Early Film Showing of The Real Anthony Fauci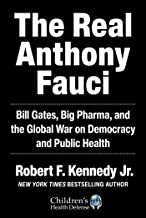 Washington, DC – Following the admission by Dr. Anthony Fauci that he knew the "draconian" lockdown policies he supported would have negative consequences on the economy and schoolchildren, a new film exposes the influence Fauci has had on government policy, the pharmaceutical industry, research and numerous other areas of medicine.
The Real Anthony Fauci, the latest film from documentary film maker Jeff Hayes exposes the motivations behind "America's Doctor" to issue unquestioned edicts that upended everyday life during the Coved-19 pandemic. Fauci has drawn foom a number of fronts. The film is based on the runnaway best selling book The Real Anthony Fauci: Bill Gates, Big PHarma, and the Global War on Democracy and Public Health by Robert F. Kenney, Jr.
The film will be available for free viewing at:http://therealanthonyfaucimovie.comon October 18 at 12:01 Eastern.