Pundit's Perspectives – Tue 24 May, 2016
Gold Further Downside Probable Before Possible Blast Off

This articles posted by our friends over at Gold-Eagle.com provides an outlook on the gold price that I mostly agree with. I have not heard of this analyst before so if anyone has any insights please let me know. His name is Ken Ticehurst.
…
Having broken its long term bear phase with a bang gold continues to consolidate as we expected. Our best forecast scenario that we have been following for the last few months Involves a retest of support probably below $1200 before beginning a multi month rally.
Below are our current 30 day and 5 day forecasts which show we are potentially on the cusp of the retest we have been waiting for since the gold break out at the start of the year.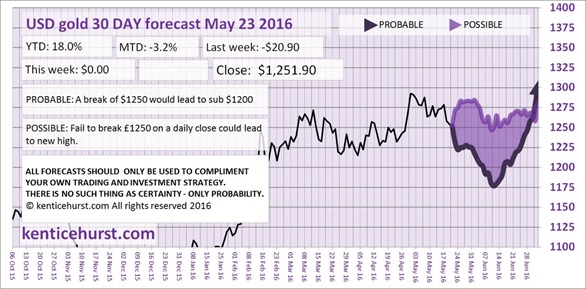 We didn't much care for the rise out of the 2015 lows, the problem was it was not a nice steady stealthy accumulation but a frantic disjointed parabolic short squeeze, with gold up nearly 20% in a little over a month we felt this move was unsustainable and in line with previous episodes we felt a retest and a higher low was the most probable outcome so far this is looking to be the case.