Valuable Insights from Around the Web – Wed 4 Jan, 2017
Inflation continuing to pop up in recent data

The story below is another example in the recent month where data is showing inflation starting to pick up steam. Central banks around the world have been trying every trick in the book to reach their inflation goals but nothing has worked. Enter Trump and his plans of deregulation, instructor spending, and an overall more optimistic consumer and business owner and now we are seeing inflation start to pick up.
This uptick in inflation will easily be the story of 2017 if it continues.
…
That Bubbling Sound Coming From U.S. Factories May Be Inflation
ISM factory gauge advances to a two-year high in December

Price gauge surges though still below higher-inflation periods
Champagne wasn't the only thing bubbling at the start of 2017 for U.S. manufacturers: So was inflation, a potential warning sign in an otherwise broadly positive report on American factories.
The Institute for Supply Management said Tuesday that its index of manufacturing increased for a fourth straight month, reaching a two-year high of 54.7 as new orders surged by the most since the summer of 2009 on stronger overseas and domestic demand. Percolating sales were evident in the group's gauge of prices paid for raw materials, which advanced to 65.5, the highest level since June 2011.
While the ISM sub-indexes can be volatile, the jump in prices caught the eye of factory managers and analysts, with survey chairman Bradley Holcomb noting it was "clearly something to watch" at the beginning of the year. A broad-based increase in costs of inputs for production corroborates signs of higher consumer inflation. The personal consumption expenditures price index — the Federal Reserve's preferred gauge — is up 1.4 percent on a year-over-year basis, the fastest gain since 2014.
Even with the increase in the ISM price index, it's far below levels from times associated with rapid inflation. The gauge averaged a 73.7 reading in 1980, when the consumer-price index averaged a 13.6 percent rise. The ISM price index reached a post-recession high of 85.5 in 2011, coinciding with a post-recession high in crude oil and faster gains in the Fed's preferred index.
Price pressures are slowly starting to build globally. In China, the world's second-largest economy behind the U.S., an official manufacturing purchasing managers index remains near a post-2012 high. Economists are taking note of signs that the U.S. economy could find itself at risk of overheating, requiring more ambitious interest-rate increases this year from the Fed.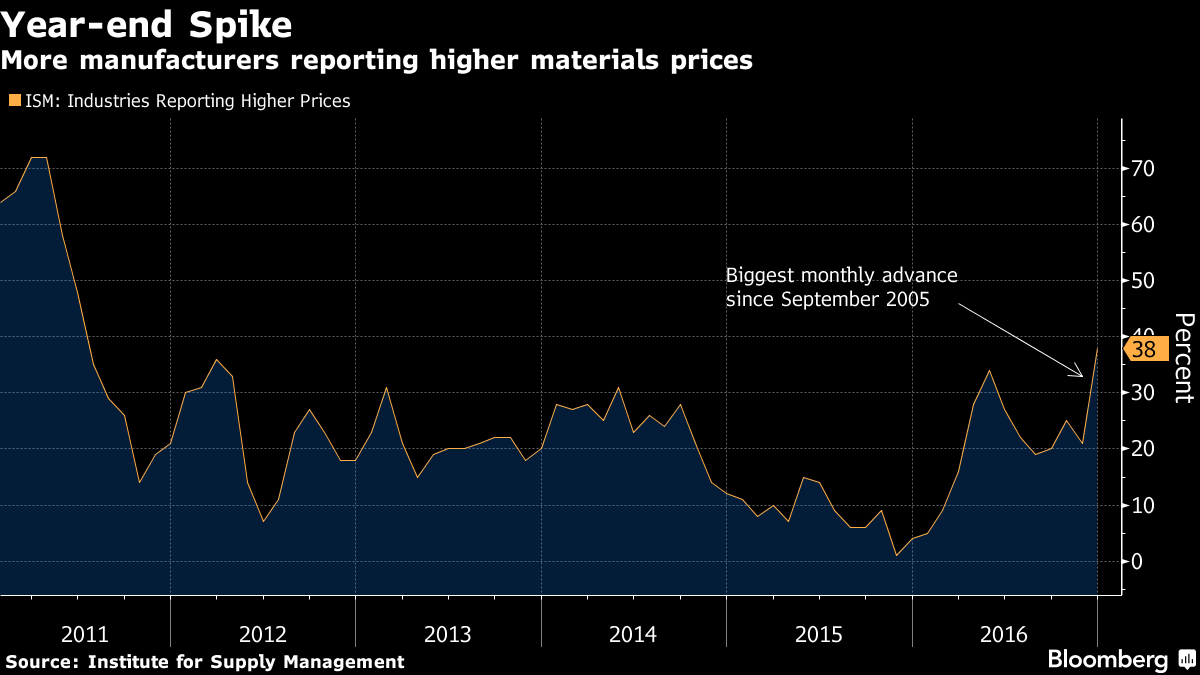 The ISM factory report showed higher costs for steel, aluminum, copper and natural gas. The prices-paid measure is meant to correlate with the Labor Department's producer-prices gauge for intermediate materials, with both signaling changes in wholesale costs that could filter through to the household level.
"I was a little bit surprised by the strength of the increase" in the ISM price index, said Russell Price, senior economist at Ameriprise Financial Inc. in Detroit. "We've seen firmer commodity prices across the board, and maybe the expectations of stronger results may be influencing responses in the survey. Headline inflation should see an acceleration."
Some 38 percent of respondents reported paying higher raw materials prices, up from the 21 percent who said so in November and representing the biggest monthly increase since September 2005, the ISM's report showed. Makers of metals, appliances, furniture and petroleum products all said cost pressures were building. Only the apparel industry saw cheaper materials.
More Pressure
One respondent in the food and beverage industry said things are moving to a "more inflationary environment, with lots of pressure to increase prices on a number of fronts," according to the ISM release.
Metals and fuels have been advancing recently on prospects the global economy is picking up some momentum. That theme was evident in the ISM's figure on export orders, which was the strongest since May 2014.
A measure of overall bookings, including those to domestic customers, registered the largest one-month gain since August 2009. Business sentiment has been advancing as well on prospects the U.S. economy will gather steam under Donald Trump's administration.