Doc Jones Research Report – Emerita Resources
Doc Jones will be featured on this weekend's show so in the meantime here is a recent research report he wanted to share on Emerita Resources (TSX.V:EMO). I hope you all enjoy!
This is part 1 – The following 2 parts are linked below.
---
JUST THE HIGH-GRADE. Eric Sprott backs Poly-Metallic Explorer Emerita Resources, first drilling in 20 years, historical resource +$20 Billion, LOCATION, LOCATION, LOCATION
EMERITA RESOURCES: $EMO is a Canadian natural resource company engaged in the acquisition, exploration and development of mineral properties with a primary focus on exploring in Spain's prolific Iberian VMS Pyrite Belt. The company's focus is on 2 large strategic package in the belt containing 3 high-grade poly-metallic mineral deposits containing Zinc, Copper, Lead, Silver and Gold. Management has spent decades with major mining companies globally and has a successful track record that includes numerous mineral deposit discoveries and subsequent project developments in North and South America, Africa and Australia.
Note: What I find intriguing is that this small juror VMS focused explorer was able to fight and secure 2 exceptional leases (1 pending) with historically high-grade resources drilled out in a world class VMS belt. One lease was secured via a 5 year court battle the second is about to conclude after a 6 year court battle where the Supreme Court of Spain recently deciding in their favour.
On Feb. 2021 they have secured final drilling permit approval and funding.
If you follow the news you will see as soon as permits were awarded and the Superior Court of Spain ruled heavily in Emerita favour for the second pending lease then Mr. Eric Sprott personally invested $3 million dollars just hours later after the announcement taking more then 10% of the company. (I always take note when he invests in a base metal play, he is much more selective with them then with his shotgun approach to his Gold investments, notably EMO has well over 150 million ozs of Silver and close to 1 million ozs of Gold in their historical resource to enhance the huge Zinc, Copper and Lead resource….more on that later….)
I always love these type of sleep giant companies because they lay dominant for years, forgotten, boring, no one cares then everything changes dramatically much like WallBridge Mining when they acquired Fenelon that gained 2000% in the 2 years that followed.
These land packages haven't seem a drill bit for more than 20 years. It's the sleeping giant effect. Consider what the prices of gold, silver, zinc, copper and lead were 20-30 years ago, when Rio Tinto 1990's and the prior owner in the 1970's drilled out the Romanera Deposit for example they didn't even assay a large portion of the cores for gold. The deposit as is boasted close to 1 million ozs of gold already and that's just a by-product. Each of they three independent deposits they have has the potential to become a company-maker on it's own. Emerita has three shots at billions in shareholder value.
It's very interesting considering we are in a metals bull-market being fuelled by globalize economic expansion. The world economies are synchronized towards growth at a time when supply deficits in the metals like Copper, Zinc and Silver are looming.
The 3 historical deposits with a total metal value exceeding $20 BILLION USD and open for expansion.

The Sprott timeline:
Feb 4, 2021
https://ceo.ca/@nasdaq/emerita-resources-receives-approval-for-infanta-deposit
Feb 10, 2021
https://ceo.ca/@nasdaq/emerita-resources-provides-update-on-aznalcollar-legal
Feb 10, 2021
https://ceo.ca/@newswire/iiroc-trading-halt-emo-0be9f
Feb 10, 2021
https://ceo.ca/@nasdaq/emerita-announces-3-million-strategic-private-placement completely funded by Eric Sprott directly
MANAGEMENT
David Gower, P.Geo.

CEO AND DIRECTOR
President of Brazil Potash Corp. which has discovered the largest and highest-grade potash deposit to date in Brazil. He has over 20 years of experience in exploration with Falconbridge, (now Xstrata / Glencore) most recently as Director of Global Nickel and PGM exploration. He was a member of the Senior Operating Team for mining projects with Falconbridge. He has led exploration teams that made brownfield discoveries at Raglan and Sudbury, Matagami, Falcondo, and greenfield discoveries at Araguaia in Brazil, Kabanga in Tanzania and Amazonas, Brazil. He has held Executive and Directors positions with several junior and midsize mining companies for the past 10 years.
Listen To David speak:
PRESIDENT AND DIRECTOR
Joaquin Merino-Marquez, P.Geo.
A professional geologist with 20 years of experience in the mining industry. He was previously Vice President, Exploration for Primero Mining Corp. and before that Vice President Exploration for Apogee Minerals Ltd. Previously was the exploration manager for Placer Dome at Porgera Mine and a mine geologist at Hecla Mining's La Camorra mine. Joaquin has extensive international experience in South America, Europe and Asia-Pacific regions. Joaquin holds a MSc from Queens University, and a BSc in Geology from University of Seville (Spain). Mr. Merino is a member of the Association of Professional Geoscientists of Ontario.
MINING IN SPAIN JUST BECAME A WHOLE LOT EASIER….
It's worth mentioning Spain's Government and EU are incredibly bullish on mining in the Iberian Belt where Emerita's leases are held where they plan on to support the industry by investing €3.10 billion for mine development and related activities.
(Major's already mining in Spain: Vale, Rio Tinto, First Quantum, Kinross Gold, BHP to name a few.)
"PRESS RELEASE, April 12th 2021
Andalucia Region Targeted for Strategic Mining Investment by European Union
There have been two important developments with respect to the mining industry in the Andalucia Region, Spain, where the Company's projects are located, during the past week.
The Junta of the Andalucia Region passed a law designating underground mining as a strategically important industry in the region that will be permitted in all areas of the region . Mining development will have priority as an economic activity.
The European Union has passed an initiative as part of its plan to rebuild the economy post the COVID 19 pandemic whereby the Iberian Belt which is located primarily in Andalucia and extends westward to Portugal will receive a strategic investment of €3.10 billion for mine development and related activities. The Ministry of Economic Transformation, Industry, Knowledge and Universities has promoted the project for the metal mining and metallurgy sectors in Andalusia to apply for funds from the "Next Generation of the European Union" (funds established for economic rebuilding of the EU post the pandemic). The strong mining industry and recognized geological potential hosted in the Iberian Pyrite Belt, within the provinces of Seville and Huelva will be the focus of the program."
What is The IBERIAN PYRITE BELT?

Location. Location. Location.
"The Iberian Pyrite Belt is a very large region of mineralisation that is argued to be the largest massive sulphide deposit in the world. Extraction of minerals from the IPB has a colourful history that spans at least 5000 years and includes localities such as the famous Rio Tinto mine. It forms an arch about 240 km long and 35 km wide between Seville and the proximities of Grándola in Portugal. The Iberian Pyrite Belt is one of the most important volcanogenic massive sulphide districts in the world. Mining in the Iberian Pyrite Belt was very important in Tartessian and Roman times, working the oxidation and cementation zones of the deposits for gold, silver, zinc, lead and copper."
Additional reading: http://www.igme.es/patrimonio/GEOSITES/Chapter_04_SGFG.pdf
Emerita's High-Grade VMS Properties in the Belt
LAND PACKAGES
The Aznalcóllar Project

This a past-producing property within the prolific Iberian Pyrite Belt. The focus of the project is the re-development of the Los Frailes deposit which is a high-grade VMS deposit (Zn-Pb-Cu). The historical open pit mineral resource as calculated by the previous operator of the mine was estimated to be 71 million tonnes grading 3.86% zinc, 2.18% lead, 0.34% copper and 60 ppm silver. Emerita completed extensive engineering, environmental and water management studies as part of the public tender process.
NOTE: This was a mine for 18 months until the trailing damn failed. The historical resource is production drilled and once after the courts finalize, EMO will do confirmation drilling then go directly to a Feasibility Study then start underground mining exploiting the high-grade core ore shoot first.
Feasibility Study in 1 year from first drilling.
Emerita plans to mine first the High-Grade Resource , meaning just the High-grade shoots in the shell above.
Hint: Look what's below the pit-shell and to the left and right. LOTS OF RESOURCE TO ADD the 20 Million tons of HIGH-GRADE that is pit contrained values at over $7 Billion USD
NOTE: The CEO had said in an interview that the High-Grade Tons are more close to 28 million Tons

High Grade Resource simplified (ONLY the current Pit Constrained)

20 million tons (2200 pounds per ton)
+2.9 Billion pounds of Zinc
+1.7 Billion pounds of Lead
+127 Million pounds of Copper
+54 Million ozs of Silver
Total Metal Value: +$7.25 Billion USD
Value per Ton= +$362 USD
Easy translation of Historical Total Open-pit Resource

+530 Million pounds Copper,
+5.4 Billion pounds of Zinc,
+3 Billion pounds Lead
+137 Million ozs of Silver
Total Metal Value = +$16.54 Billion USD
Value per open pit ton = +$232 USD
Aznalcóllar Land Package has been the subject of a long 6 year legal battle, most recently 5 Superior Count Judges of Spain sided with Emerita and it appears that Emerita will be awarded the Project in the near futrure.
MOST RECENT NEWS
"Seville – FEB 09, 2021 – 15:17 CET
""The judge of the 'Aznalcóllar case' prosecutes the former president of SEPI after two previous files
In the case there are also eight other defendants, including two former senior officials of the Andalusian Junta, investigated for prevarication in the public mining competition……And at the third, Judge Mercedes Alaya won the pulse. The head of Examining Court 3 of Seville, Patricia Fernández, has prosecuted nine people for the alleged fraud in the public tender of the Aznalcóllar mine after six years of investigation and two previous files, and has ended up adopting the criterion of the Seville Court ―exposed by Alaya, who has resolved the appeals― to direct the case towards a trial. Vicente Fernández, former president of the State Society of Industrial Participations (SEPI) and former senior official of the Board, stands out among the nine investigated along with other former officers and businessmen who, since Monday, are closer to sitting in the dock of the accused.
The Government dismissed Vicente Fernández at the head of SEPI a year and a half ago after reopening the hearing for the second time and remaining investigated for his stage as secretary general of the Andalusian Ministry of Innovation Science and Employment. Alaya accused him of maintaining a "connivance" and "personal relationship" with the winning entrepreneurs of the tender, who went to the second phase of the contest "despite not meeting the legally required requirements."
TORONTO, Feb. 10, 2021 (GLOBE NEWSWIRE) — Emerita Resources Corp. (TSX-V: EMO; OTC: EMOTF) (the "Company" or "Emerita") announces that Spanish media are reporting that there has been an important ruling in the legal proceedings pertaining to the Aznalcóllar public tender. The Company has not received official documentation from the courts to review with its Spanish counsel at this point and it will provide a full update as soon as that is completed.
Major Spanish media outlets are reporting that related investigations are concluded and the case is to be sent for trial. The judge who carried out the investigation has concluded that there are enough evidences to demonstrate that prevarication took place in the Aznalcóllar Tender. There are nine individuals accused of crimes of prevarication, two were senior politicians, five were government employees and two who were principals of the competing company. According to media reports, the crime of prevarication has been proven, the next phase of the trial is to determine the level of responsibility of the individuals and assess the individual penalties accordingly as required under the law.
The significance according to Emerita's Spanish counsel is that under Spanish law governing the public tender process, if a crime is committed in awarding a tender that bid must be disqualified and the tender must be awarded to the next qualified bidder. Emerita is the only qualified bidder in the tender process.
The above is based on reports published in major Spanish media outlets. The Company will provide a more fulsome update as soon as the official documents can be reviewed by the Company and its legal counsel."
Link to several media articles in Spain backing up EMO shall be awarded the Aznalcóllar Land Package: (use google translate) https://www.rockstone-research.com/index.php/en/research-reports/5803-Emerita-trades-heavy-volumes-amid-Spanish-media-reporting-important-ruling-in-the-case-of-the-Aznalcollar-public-tender
Note: Considering they won the last legal battle and were awarded Romanera and Infanta, all the evidence supporting their claim to the Aznalcóllar Land Package, 5 Superior Court Judges siding with them, the bad acting company has been found to have not even complete the phrase 1 tender requirements to go to phrase 2, that EMO is the only other bidder, the law stating that a bidder who commits a crime is disqualified, I'd say there is an extremely high probability EMO will be awarded the project.
Paymogo Land Package already secured – ZERO ROYALTIES
The Paymogo Project (contains 2 deposits, signed, sealed, done deal) is located in Southwestern Spain close to the border with Portugal. Geologically, the project is underlain by rocks of the Iberian Pyrite Belt (IPB) which is a prolific VMS terrane with numerous current and past producers of base metals sulphides. Paymogo hosts two previously outlined deposits named La Infanta and Romanera, with both deposits remaining open at depth.

La Infanta VMS Deposit – The baby of the 3 deposits but it has incredibly grades, DRILL ARE BEING MOBILZED CURRENTLY, Last drilling was over 20 years ago.
In 1975, Asturiana de Zinc S.A. acquired the exploration rights and signed a JV agreement with Phelps Dodge Española, S.A. Phelps Dodge kept the project and completed a feasibility study to ship the ore to "Cueva de La Mora" mine, about 30 km to the north. The project was never implemented, and in the late 1990's, the exploration licenses returned to the state as "strategic resources". La Infanta has over 5,000m of drilling done on the property with historical resources of 2Mt at very high grades. The project provides for high geological potential for growth with low environmental risk. La Infanta has provided very high grade intercepts and is only drilled to approximately 100 metres depth.

Historical Resource is small on La Infanta due to very limited drilling density but incredible grades.
0.8 Million tons @ Cu 1.77%, Zn 12.66%, Pb 6.91% & Ag 148g/t
NOTE: Metal value per ton: $781.70 at April 15 2021 spot prices (that's world class value per ton) and it's all within 110 meters of surface!
The La Infants is where the drill is being mobilized currently for a 5000 meter drill program, the strike length and down dip potential has tripled since they acquired the ground I might add, do the math on LxWxDxDenity tonnes per meter = 1200x600x300x2.4 = 518 million gross tonnes at 5% being ore grade = 26 million tons with an metal value of $20.6 Billion USD using the current resource grade. That's tremendous upside just here at 1 of the 3 deposits.
Just look at the Copper, Lead, Zinc and especially Silver grades, all high-grade values and all within 100 meters of surface.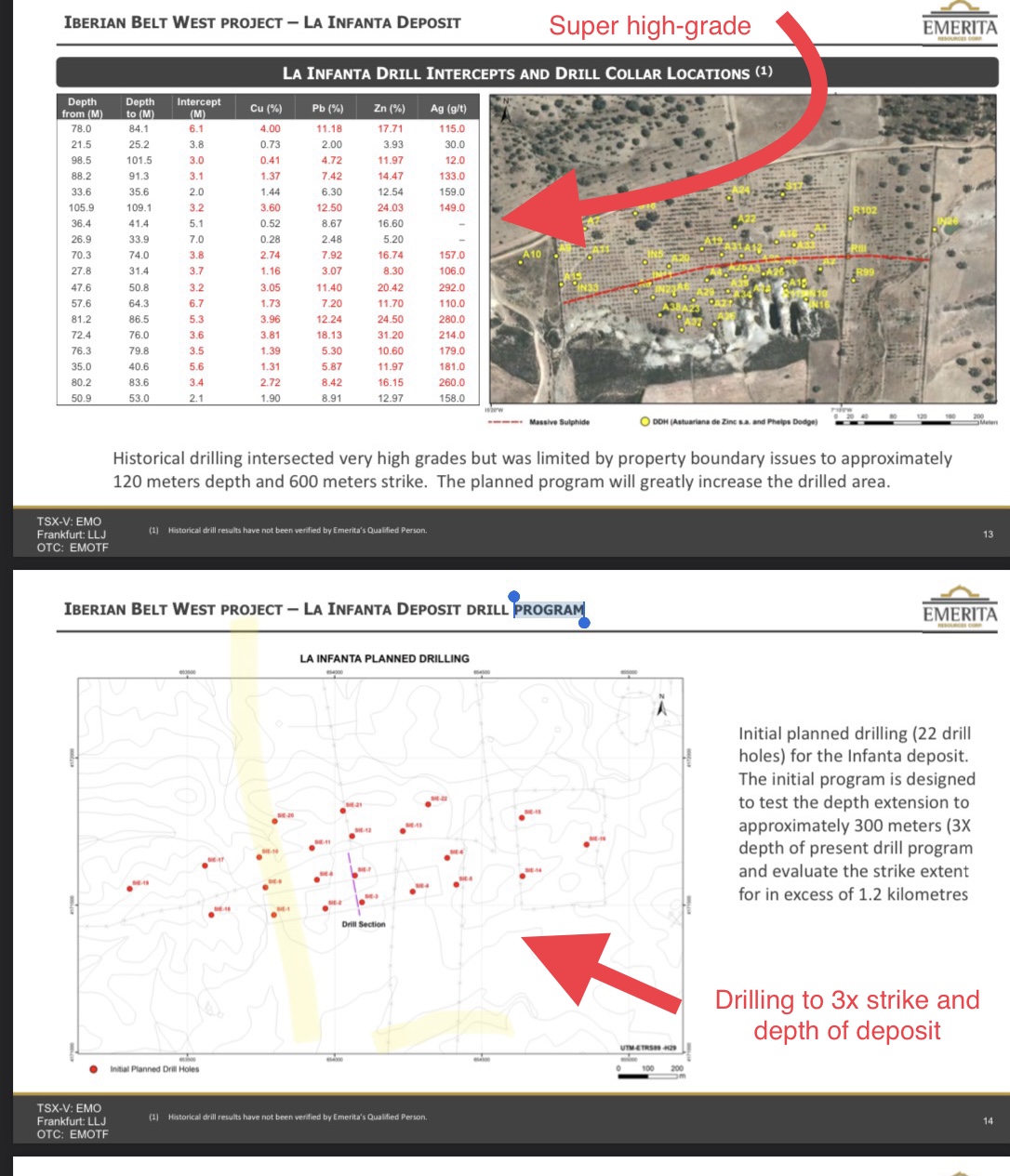 "Joaquin Merino, P.Geo., President of Emerita, remarked, "We are excited to finally be commencing the diamond drill program on the Infanta Deposit. It is a very high grade mineralized zone that has only been drilled to approximately 110 meters depth and historical drilling only evaluated about 450 meters of strike length. The deposit was not cut off either down dip or along strike because it crossed the historical property boundary. Our recent field mapping suggests the mineralization extends for at least 1.2 kilometers along strike at surface.
The initial drill program at Infanta will be designed to test the full 1.2 kilometer strike length of the mineralization and test the depth extent to approximately 300 meters down dip. There are 49 historical holes drilled delineating the deposit to date and the program will move from the known mineralization and step out systematically along strike and down dip to establish a NI 43-101 compliant resource estimate for the deposit. The plan will be to initially complete approximately 30 drill holes for a total of approximately 5,000 meters of drilling. The Company is fully financed to complete the program."
Historic Drilling at La Infanta
Note: look at the incredible grades and near surface. The Gold credits are not in the current Historical resource. Drilling about to first after being dormant for 20 years.
Romanera VMS Deposit: Number 3
Romanera is a larger sulphide deposit which is located approximately 7 km to the west of La Infanta. During the 1960's, Asturiana de Zinc explored the deposit which resulted in over 10,000 metres of DDH and 7.4Mt reported resources. Between 1990 and 1995, Rio Tinto Minera S.A. controlled most of the IBP, including La Romanera. In 2003, Matsa, Trafigura's subsidiary in Spain acquired the "Aguas Tenidas" mine and acquired a large land position in the IBP which included the La Infanta and Romanera prospects. Matsa did not carry out exploration work on the property as it focused on the Aguas Tenidas mining operation. Historically, Romanera has over 20,000 metres of drilling don on the property and provides strong geological potential for growth. Romanera has a historical resource of 34Mt at moderate grades including 11.2Mt at high grades.
Easily mined, low dilution, mineralization outcrops at surface and continues to widen and increase in grade at depth.
Just the High-Grade Resource
11.2 Million Tons
+99 Million Pounds of Copper
+1.355 Billion Pounds of Zinc
+608 Million Pounds of Lead
+23 Million ozs of Silver
+360k ozs of Gold (bare min. Not all cores original assayed for Gold)
Total Metal Value in High Grade Core = +$3.96 Billion USD
Value per Ton = +$354 USD
Easy translation of Total Historical Resource at Romanera
+800k ozs gold (bare min. Not all cores original assayed for Gold)
+40 Million ozs Silver,
+1.7 Billion pounds Zinc,
+800 Million pounds Lead,
+310 Million Pounds Copper.
MINEABLE RESOURCE Prior to drilling excluding La Infanta

Note: As you can see there is a lot of value yet to be priced into this company, the mineable resource of The Aznalcollar open-pit (pit constrained resource + just Romanera underground high-ground (an open pit currently at Romanera won't work, too high strip ratio so I only use the high grade 11.2 tonnes)
= +$20 Billion USD
Emerita's is focusing on the high-grade resources at Romanera underground 11.2 Million Tons and the pit constrained high-grade zone at The Aznalcóllar Project 20 Million Tons
31.1 Million Tons = +$10 Billion USD in Metal value at a ton value of +$360USD/ton with mineralization starting at surface at mineable width and a very low dilution with excellent (billions of $) in Gold and Silver by-product credits.

Marco Thoughts:
Copper: it's very well talked about in the media regarding shortages coming but here's some interesting stuff:
"US's post-pandemic recovery and the Biden Administration's infrastructure plan are helping to build momentum for base metals.
Goldman Sachs sees prices average $11,000 per tonne over the next 12 months, according to the Business Insider. By 2025, the metal could be priced at $15,000 a tonne, a rise of 66%, Goldman said in a report titled "Copper is the new oil".
"Discussions of peak oil demand overlook the fact that without a surge in the use of copper and other key metals, the substitution of renewables for oil will not happen,' the bank said.
Demand will therefore significantly increase, by up to 900% to 8.7 million tonnes by 2030, the bank estimates. Should this process be slower, demand will still surge to 5.4 million tonnes, or by almost 600%.
BHP president of minerals for the Americas, Ragnar Udd, expressed his optimism for a growing demand in the future at the CRU World Copper Conference in Chile."
Zinc: Pictures speak a thousand words, deficits coming which means a FS level project like The Aznalcóllar Project can reasonably be in production in a few years capturing incredibly high margins and cash-flow.
Silver: Increasing demand for GREEN ENERGY, inflation hedge
Lead: Prices follow GDP
Gold: It's gold. Pretty simply.
GLOBAL GROWTH: It's amazing is the business cycle has been reset globally, every country is spending on infrastructure at once, the last time we saw this was just after WWII. That boom for commodities lasted over a decade.
Just look at the forecast from the IMF, the emerging and developing economies growing the fastest.
COMPANY DATA
Outstanding Share Data Feb 25 2021
136,803,544 common shares outstanding;

47,377,433 warrants outstanding, with expiry dates ranging from May 23, 2021 to February 23,

2023. If all of the warrants were exercised, 47,377,433 shares would be issued for gross proceed of $8,407,464.
10,370,000 stock options outstanding with expiry dates ranging between August 29, 2021 an February 5, 2026. If all of the options are exercised, 10,370,000 shares would be issued for gross proceeds of $1,776,000.
Net Working Capital: $6-6.5 Million
Market Cap: $35.5 Million Canadian / $28.3 Million USD
Enterprise Value Approx: $28.75 Million Canadian / $23 Million USD
Current Share Price: $0.25 Canadian
Strategy Investor: Eric Sprott +10% at $0.22 Canadian/share
Mineable Resource Metal Value per share = +$72 USD / $90 Canadian per share *(Just The Aznalcóllar High Grade + Romanera High-Grade Under Ground opportunities)
Note: If you apply a 20% margin on the +$10 Billion USD of mineable resources using the current spot prices you get a NAV of $14 USD/$18 Canadian, per share, to trade at 20-30% of NAV = a price per share of $4.20 USD/$5.60 Canadian.
It won't happen over night but there is great potential to rerate as unanswered questions are answered in the next year.
INFRASTRUCTURE
2 smelters close by within trucking distance: 1 Copper, 1 Zinc

Power and water

Knowledgeable work force

Government Support of Mining

Low cost currency
ZERO ROYALTIES on LAND
ESG issues: ZERO
Flat accessible land
Lots of majors in country to be a takeover suitor
Here's context for what's mineable and the possible future revaluing of shares look in the red below, it's just those tons

BONUS ROUND!
Another drilled out deposit that has 2.4 Billion Pounds of CUEQ add another +10 Billion USD
"Los Frailes deposit, past producing open pit copper mine, 90 million Tons 0.51% Copper, 1.8% ZN 0.85% Pd = 1.21% CUEQ"…. "The Aznalcóllar project is a past producing property within the famous Iberian Pyrite Belt that hosted the Aznalcóllar and Los Frailes open pit zinc-lead-silver mines…"

Did you known that the The Aznalcóllar project, which it looks like they will win (see DD Report, 5 Supreme Court judges ruled in their favour) aside from the great Aznalcollar deposit (the focus of all the news because it's basically at a go to production level) that's already resource production drilled and already has $16 billion in metal value 7$ Billion of which is high grade at over $350 a ton including close to 200 million oz of silver, which when developed will more likely be over 300 million ozs of silver, (That's why Sprott entered the company for the massive silver upside as per the CEO)

That land package INCLUDES a second never talk deposit that is drilled out, it's the Los Frailes COPPER DEPOSIT a total of 2.4 billion pounds of COPPER EQUIV….RIGHT NEXT DOOR…like 2 km away…
That gives this 1 land package a starting metal value of +$27 Billion USD, add in the other land package where they are currently expanding the high grade resource, total known resource value over $+35 Billion USD that is economical…(2 open pit and then just the high grade underground at Romanera and La Infanta,)
It's incredibly, Copper goes to $5-6 talk about your unknown upside. Will a 2.4 billion pounds (1 billion pounds of which is copper) at 1.21 Cueq% in an open pit be mineable, for sure. So many possibilities…. Mine just the high grade first as planned, then over to the copper open pit or blend ore from underground 2 km away and open pit?
The bottom line this unknown deposit obviously has value that is not priced in. The day the court case settles and Emo takes the title as it did recently with La Infanta, El Cura and Romanera the market cap within 3 days will be over $200 million.
Conclusion: There is always risk, for some black-swan reason should all the Judges that ruled in their favour flip and the courts ignore the facts and they don't get The Aznalcóllar Project the Romanera and Infanta alone are worth many multiples of $EMO current share price, that's very easy to deduce. They are cash-up, so there is little risk of dilution prior to drilling at least 2 known high-grade deposits during the beginning of a bull run in all metals especial copper and zinc. Management has a history of converting deposits into mine and they have attracted Eric Sprott to their base metal play which alone is a feat.
Evaluation is incredibly cheap considering the mineable resource that already exists and the infrastructure that is in place to support a mine including the local Government.
Peers across the board trade at many multiple higher than Emerita. Look at OM.V ADZN.V PGZ.V evaluation.
Analyst have yet to find this story as do most investors.
The downside is underpinned by a strong treasury and a robust resource. Drilling is about to begin and the news flow will be consistent going forward creating multiple opportunities for a revaluation higher and exposure to the investment community.
For $0.25 Canadian a share it's just a matter of "when" not "if".
The Main Catalyst:
1) The conclusion of the case and they are awards The Aznalcóllar Project, that in itself I believe will more then double or triple the share price
2) The beginning of the first drill program on Infanta in 20 years where the values per tin so far exceed $700 USD, truly world-class
3) Assay result from drill program at La Infanta and re-assaying of historic cores from Romanera for Gold values not included
4) Later in 2021 the drilling of Romanera High-Grade
5) The continued rise in Zinc, Copper, Silver, Lead, Gold and the looming deficits fuelling investment in Base Metals.
Part 2 – MORE UPSIDE add and 2.4 Billion Pounds of CUEQ UPDATE on $EMO EMERITA RESOURCES Doc Jones speaks with CEO David Gower
Part 3 – ANOTHER $4 Billion in value1.38 Million ozs of Gold @ 0.48g/t. 107 Million ozs of Silver @37g/t