Polling Numbers indicate that Joe Biden is on the wrong track.
Jimmy uncovered the numbers shown below this morning:
WOW! Joe Biden Confronted on 85% Wrong-Track Number, Record Inflation — Blames US Supreme Court (VIDEO)
n overwhelming majority of Americans say the U.S. is heading in the wrong direction, including nearly 8 in 10 Democrats.
79% describe the Biden economy as "poor". These numbers come from an AP-NORC poll.
Gas prices are at record highs — double what they were when Trump left office.
The middle class is being destroyed.
TRENDING: Biden Takes Aim at America's Largest Oil Field, Threatens to Stop Production, Sending Gas Prices Soaring
Prices are up 17% from a year ago.
Bipartisan dissatisfaction with the direction of the country and the economy
Nearly all Republicans feel the country and economy are headed in the wrong direction. Three-quarters of Democrats agree.TOPLINE RESULTSPUBLIC USE FILESMETHODOLOGY

June 29, 2022
Americans remain deeply pessimistic about the state of the country and the economy. A view that is reflected in President Joe Biden's approval rating, which continues to hover around 39%. About 9 in 10 Republicans disapprove, along with nearly three in 10 Democrats.
The national dissatisfaction is bipartisan. Most Americans, 85%, say the country is headed in the wrong direction. A majority of Republicans have been unhappy with the direction of the country since Biden's election. Democrats had been positive about how things were going, but now 78% say the country is headed in the wrong direction.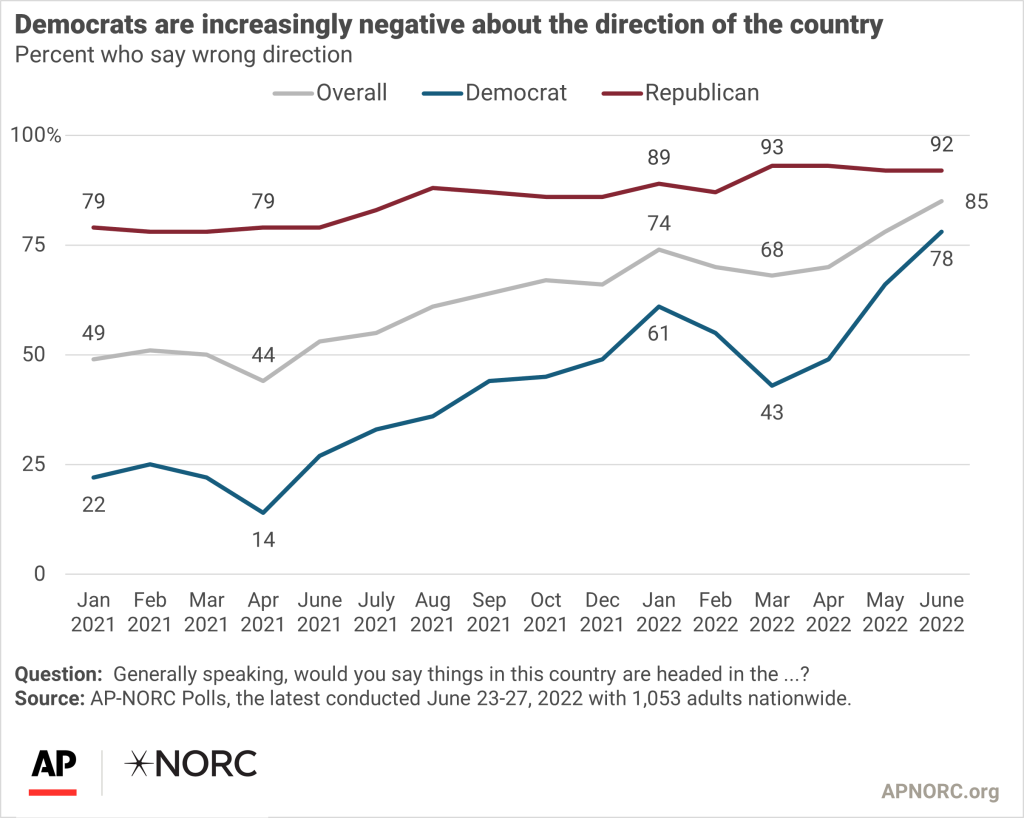 Most Americans still approve of Biden's handling of the pandemic, but they have negative views of how he is handling gun policy and the economy. While the survey was being conducted, Congress passed the widest ranging gun violence bill in decades on June 24, and the president signed it the following day. However, the public's view of his handling of gun policy is almost the same as in January 2022.
Dissatisfaction with how the president is handling the economy has been growing, as inflation continues to rise, interest rates increase, and stocks entered a bear market. Twenty-eight percent approve of Biden's stewardship of the economy, down from 51% a year ago.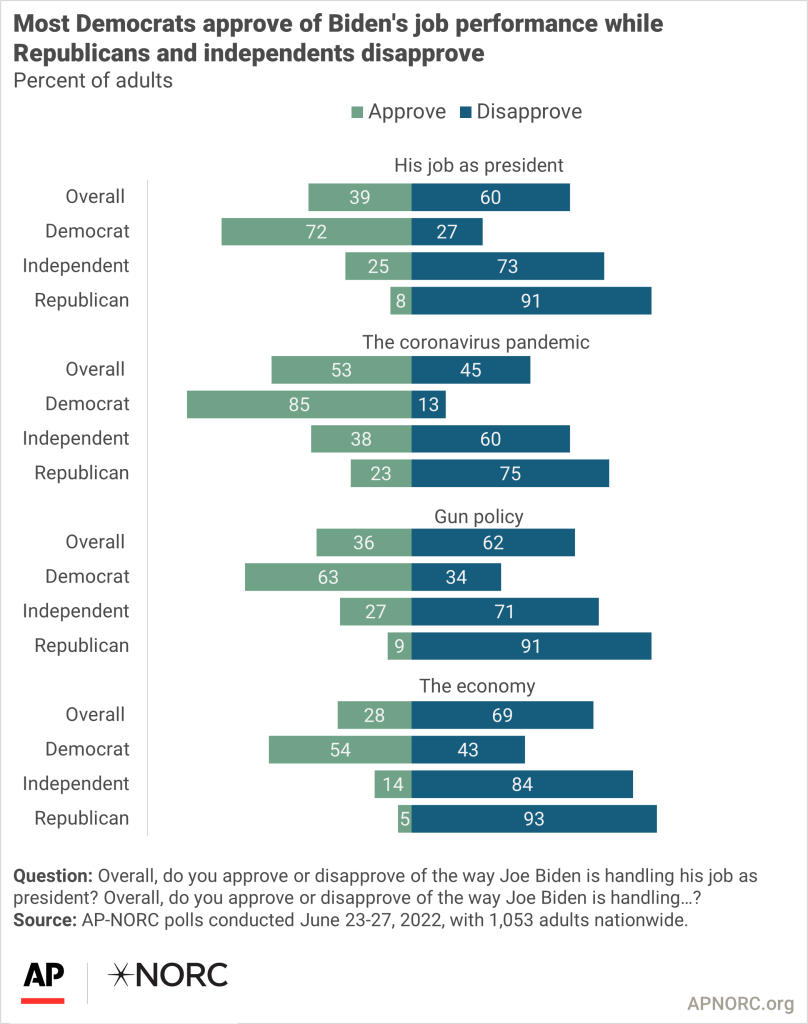 Seventy-nine percent of adults consider the national economy to be in poor condition. The increasingly negative perceptions are driven by increasing pessimism among Democrats. A year ago, 37% of Democrats and 68% of Republicans described the national economy as poor. In the latest survey, 67% of Democrats say national economy is poor, and 90% of Republicans say the same.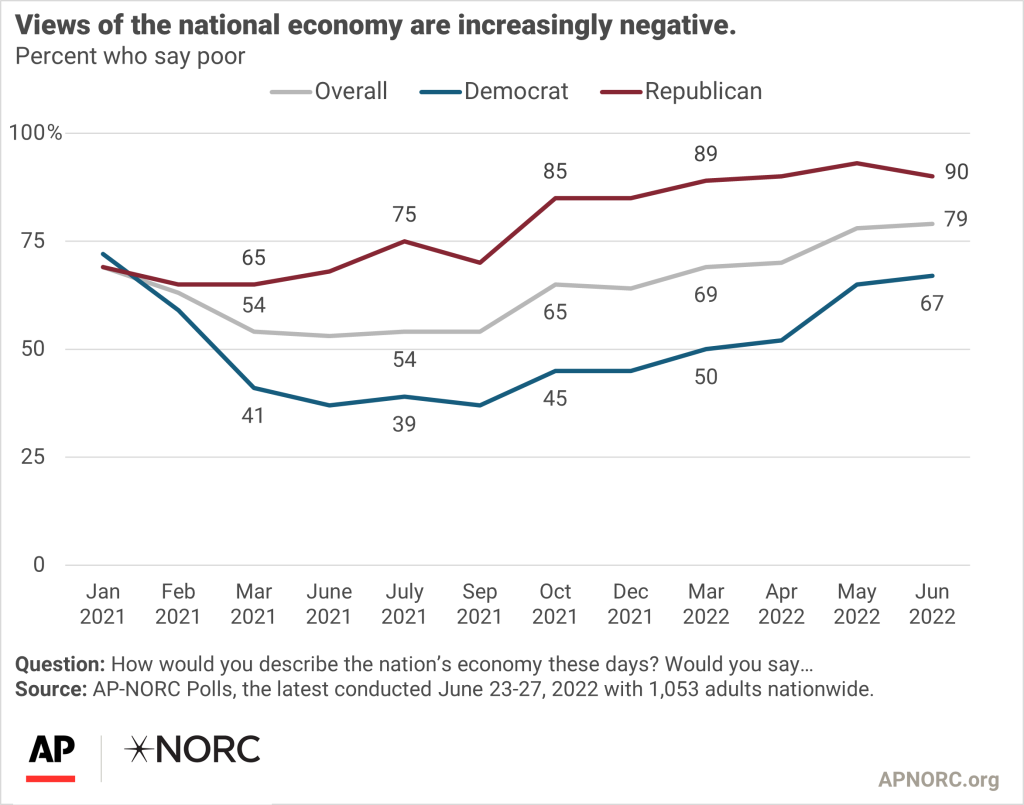 The nationwide poll was conducted June 23-27, 2022 using the AmeriSpeak® Panel, the probability-based panel of NORC at the University of Chicago. Online and telephone interviews using landlines and cell phones were conducted with 1,053 adults. The margin of sampling error is +/- 4.0 percentage points.