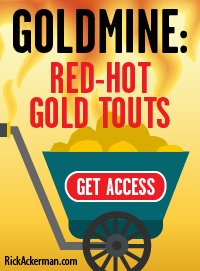 R. Ackerman
Rick is the best technical analyst, bar none

Weekend Show
Join the active discussion as listeners react to the latest episode of the popular 2-hour show
Mon 5 Mar
Fiore Gold Update – The Strategy To Grow Production and Continue To Explore
Comments on Silver and 4 Stocks We Are Tracking
Anaconda Mining Update – Recapping Drill Results From The Goldboro and Argyle Properties
Sun 4 Mar
Contrary to some peoples' opinions.
Here is a step in the right direction for our society.
Sat 3 Mar
Visit Bill Howald and the Rye Patch Gold team at The Prospectors and Developers Conference in Toronto
Thoughts from the BMO Conference and an update on Corvus Gold from Big Al and Jeff Pontius
Markets And Stock Commentary – Tariffs, Copper, Gold, and US Equities
Fri 2 Mar
Hope For Stock Bulls After End Of Winning Streak?
2018 Outlook – US Markets, Bonds, Precious Metals
US Tariffs Impact On Markets, Bonds, and PMs
Tue 27 Feb
Comments on GDX, Silver, and Novo