Posts Tagged: mergers
Jason Kosec, CEO of Millennial Precious Metals (TSX.V:MPM – OTCQB:MLPMF), breaks down the transformative merger with Integra Resources (TSX-V: ITR; NYSE:...
Thu 2 Mar, 2023
5 comments
Dave Erfle, Founder and Editor of the Junior Miner Junky, joins us to assess where the precious metals and mining stocks were priced coming out of 2021, and what trends may develop moving into 2022. 
Tue 4 Jan, 2022
16 comments
David Erfle joins us to review the levels he's watching in gold, the GDX, and the GDXJ as the precious metals have rallied up to overhead resistance levels.  We also discuss the string of recent M&A deals in the sector.
Tue 9 Nov, 2021
55 comments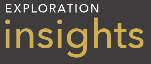 We recap some of the recent M&A transactions and the trend of mining companies looking to grow scale. It's all about building to a level that will attract the investors still focused in the sector.
Fri 5 Nov, 2021
35 comments