Stillwater Critical Minerals – More 2022 Exploration Results Returned Building Towards The Resource Update
Michael Rowley, President and CEO of Stillwater Critical Minerals (TSX.V: PGE – OTCQB: PGEZF), joins us to review recent exploration results returned from the 2022 season and the current work going into the upcoming Resource Estimate update to be released this quarter at their flagship Stillwater West Project in Montana.   The most recent maiden resource estimate, that incorporated drilling up through 2020 was released in 2021 and contained 1.1 billion lbs of nickel, copper, and cobalt, with an additional 2.4 million ounces of palladium, platinum, and gold.   This upcoming resource will incorporate and the further resource delineation from the 14 holes drilled in 2021, in addition to the assays for rhodium were just released to the market today.
We dive further into the parallels between this Project and their neighbors, Sibanye Stillwater, that are currently producing nickel, copper, platinum, palladium, and rhodium at that highest grade PGM mine in the world.  Mike makes the point that the mining approach for Stillwater Critical Minerals that is being proposed is more of a bulk mining deposit more akin to the South African Platreef battery metals and platinum group elements mines and development projects found on the northern limb of the Bushveld Igneous Complex. 
Next we discuss the exploration work successfully completed in 2022 at the Pine Target, which is an additional gold target returning high-grade gold, that is 2kms away and currently not one of the 5 deposit areas presently included in the resource estimate, but that more drilling will be focused here in 2023 to keep delineating this additional target area.   The focus of the exploration team at present is continuing to expand the high grade areas of the 9km strike length, and for better understanding the geological structural controls, with a wealth of potential targets for future drilling in that larger context for the 2023 exploration season. 
We wrap up by discussing the new partnership the Company has with Cornell University, which was highlighted in a recent article in the Cornell Cronicle earlier today, where Greeshma Gadikota, assistant professor of civil and environmental engineering in Cornell Engineering, will receive $650,000 of the U.S. Department of Energy's Pacific Northwest National Laboratory (PNNL) $2.4 million grant from the federal Advanced Research Projects Agency.  The focus of the research, in partnership with Stillwater Critical Minerals, will be to develop ways to simultaneously recover green-energy critical metals during mining, and used different carbon sequestration techniques in the process.
If you have any questions for Mike regarding Stillwater Critical Minerals, then please email us at either Fleck@kereport.com or Shad@kereport.com.
In full disclosure, Shad is a shareholder of Stillwater Critical Minerals.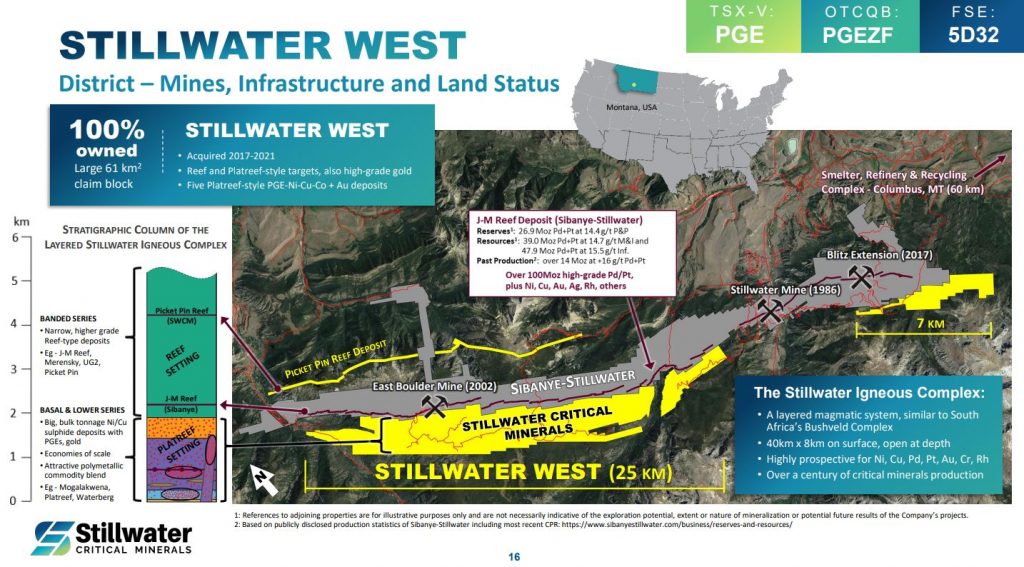 .
Click here for company news from Stillwater Critical Minerals